Posts for tag: dentures
By Bencivengo & Ko
January 31, 2021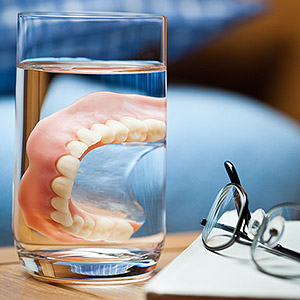 Dentures have come a long way since George Washington's time. Today, they're more comfortable, more secure and more lifelike than our first president's famous hippopotamus ivory appliance.
But one thing hasn't changed: Dentures still require regular care and cleaning. And one of the best things you can do for both your dentures and your health is to take them out at night when you go to bed.
Modern dentures are often so comfortable to wear, it's easy to forget you have them in your mouth. But setting a daily habit of taking them out when you turn in for the night will help you avoid a few potential problems.
For one, wearing dentures 24/7 can increase your risk for both oral and general diseases. Constant denture wear can cause greater accumulations of dental plaque, a thin biofilm responsible for gum disease and inflammation. The increase in bacteria could also make you more susceptible to pneumonia and other diseases.
Wearing your dentures non-stop can also worsen bone loss, a common problem associated with dentures. Normally, the biting forces generated when we chew stimulate bone growth in the jaw. A person loses much of this stimulation when they lose teeth, resulting in gradual bone loss.
Dentures can't replace this lost stimulation, and the pressure they exert on the jaw's bony ridges they rest upon can accelerate the process of bone loss. In time, any bone loss could affect the denture's fit as the bone beneath them gradually shrinks. By taking them out at night, you can help slow the pace of bone loss.
In addition to giving them and your mouth a rest at night, be sure you're also keeping your dentures clean: Take them out and rinse them off after meals and brush them with a small amount of antibacterial soap (not toothpaste) at least once a day. And don't forget to brush your gums and tongue every day with a soft toothbrush (different from your denture brush) to further reduce dental plaque.
If you would like more information on denture care, please contact us or schedule an appointment for a consultation. You can also learn more about this topic by reading the Dear Doctor magazine article "Sleeping in Dentures."
By Bencivengo & Ko
August 15, 2014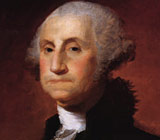 Everyone knows that George Washington wore false teeth. Quick, now, what were our first President's dentures made of?
Did you say wood? Along with the cherry tree, that's one of the most persistent myths about the father of our country. In fact, Washington had several sets of dentures — made of gold, hippopotamus tusk, and animal teeth, among other things — but none of them were made of wood.
Washington's dental troubles were well documented, and likely caused some discomfort through much of his life. He began losing teeth at the age of 22, and had only one natural tooth remaining when he took office. (He lost that one before finishing his first term.) Portraits painted several years apart show scars on his cheeks and a decreasing distance between his nose and chin, indicating persistent dental problems.
Dentistry has come a long way in the two-and-a-half centuries since Washington began losing his teeth. Yet edentulism — the complete loss of all permanent teeth — remains a major public health issue. Did you know that 26% of U.S. adults between 65 and 74 years of age have no natural teeth remaining?
Tooth loss leads to loss of the underlying bone in the jaw, making a person seem older and more severe-looking (just look at those later portraits of Washington). But the problems associated with lost teeth aren't limited to cosmetic flaws. Individuals lacking teeth sometimes have trouble getting adequate nutrition, and may be at increased risk for systemic health disorders.
Fortunately, modern dentistry offers a number of ways that the problem of tooth loss can be overcome. One of the most common is still — you guessed it — removable dentures. Prosthetic teeth that are well-designed and properly fitted offer an attractive and practical replacement when the natural teeth can't be saved. Working together with you, our office can provide a set of dentures that feel, fit, and function normally — and look great too.
There are also some state-of-the art methods that can make wearing dentures an even better experience. For example, to increase stability and comfort, the whole lower denture can be supported with just two dental implants placed in the lower jaw. This is referred to as an implant supported overdenture. This approach eliminates the need for dental adhesives, and many people find it boosts their confidence as well.
If you have questions about dentures, please contact us or schedule an appointment for a consultation. You can learn more in the Dear Doctor magazine articles "Removable Full Dentures" and "Implant Overdentures for the Lower Jaw."