Posts for: February, 2021
By Bencivengo & Ko
February 20, 2021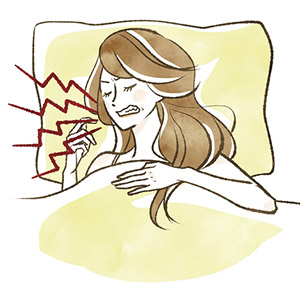 Life has changed dramatically over the centuries. But although our ancient forebears wouldn't recognize much of our modern world, they would be well acquainted with one particular oral habit that still persists. There's some evidence from archeological dental examinations that our ancestors also clenched or ground their teeth.
This habit of involuntarily gnashing, clenching or grinding the teeth together is most prevalent among children, although not considered a major problem at these younger ages. But it can continue into adulthood, as it does for one in ten people, and lead to an array of problems from worn teeth to jaw joint pain.
As to why adult teeth grinding occurs, researchers have proposed a number of possibilities. Some believe it may be related to the arousal response that occurs when a person passes through various stages of sleep. It also appears that certain psychoactive drugs can trigger it. But at the top of the cause list, teeth grinding is believed to be a physical outlet for stress.
Because of the possibility of multiple causes, there is no one method for treatment—instead, it's better to tailor treatments to the individual. Universally, though, patients who use drugs, alcohol or tobacco, all of which are considered contributing factors, may reduce grinding episodes by restricting their use of these substances.
It's also possible to reduce the incidence of teeth grinding through better stress management. People can learn and use individual relaxation techniques like meditation, mindfulness or biofeedback. For sleep-related teeth grinding it may also be helpful to forgo use of electronic devices before bedtime for a better night's sleep.
Dental treatments like an occlusal guard worn mainly during sleep can minimize the effects of nocturnal teeth grinding. This custom-made appliance prevents teeth from coming fully into contact with each other, thus lowering the intensity of the biting forces generated and preventing cumulative damage to teeth and dental work.
If you have symptoms like sore teeth and jaws, reports from your family hearing you grind your teeth, or catching yourself during the day clenching your teeth, make an appointment for a full examination. From there, we'll help you find the right combination of solutions to keep this old habit from complicating your oral health.
If you would like more information on teeth grinding, please contact us or schedule an appointment for a consultation. You can also learn more about this topic by reading the Dear Doctor magazine article "Teeth Grinding."
By Bencivengo & Ko
February 10, 2021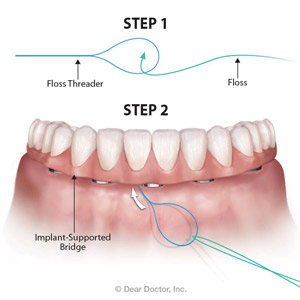 In recent years, dental implants have helped traditional bridgework take a giant leap forward. A few strategically placed implants can provide the highest support and stability we can currently achieve for this well-known dental restoration.
Implants derive this stability from the bone in which they're imbedded. Once surgically installed, the bone around a metal implant begins to grow and adhere to its titanium surface. Over time, this creates a strong anchor that firmly holds the implant in place.
But the implants' stability can be threatened if the gums around them become diseased. Gum disease, a bacterial infection caused mainly by dental plaque, can advance silently below the gum surface until it ultimately infects the bone. This can cause significant bone loss around an implant, which can weaken it to the point of failure.
To avoid this scenario, it's important to prevent gum disease by flossing daily to remove accumulated dental plaque between the implant-supported bridge and the gums, particularly around the implants. This kind of flossing around bridgework is more difficult than flossing between teeth, but it can be done with the help of a device called a floss threader.
A floss threader is a small plastic hand tool with a loop on one end and a stiffened edge on the other (similar to a sewing needle). You begin by threading about 18" of dental floss through the loop, and then work the other end of the threader between the bridge and gums to the other side.
With the floss threaded between the bridge and gums, you can now remove it from the threader, grasp each end, and floss around the sides of each implant you can reach. You'll then need to repeat the process by removing the floss, rethreading it in the threader and inserting it into the next section between implants, continuing to floss until you've accessed each side of each implant.
You can also use pre-packaged floss thread sections with a stiffened end to facilitate threading. But whichever product you use, it's important to perform this task each day to prevent a gum infection that could rob you of your implant-supported bridge.
If you would like more information on oral hygiene practices with dental work, please contact us or schedule an appointment for a consultation. You can also learn more about this topic by reading the Dear Doctor magazine article "Oral Hygiene for Fixed Bridgework."