Posts for: June, 2017
By Bencivengo & Ko
June 25, 2017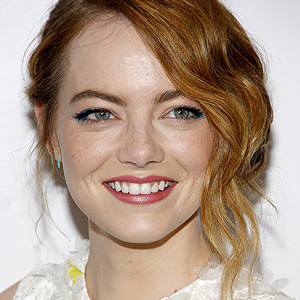 It's no secret that many of Hollywood's brightest stars didn't start out with perfectly aligned, pearly-white teeth. And these days, plenty of celebs are willing to share their stories, showing how dentists help those megawatt smiles shine. In a recent interview with W magazine, Emma Stone, the stunning 28-year-old star of critically-acclaimed films like La La Land and Birdman, explained how orthodontic appliances helped her overcome problems caused by a harmful habit: persistent thumb sucking in childhood.
"I sucked my thumb until I was 11 years old," she admitted, mischievously adding "It's still so soothing to do it." Although it may have been comforting, the habit spelled trouble for her bite. "The roof of my mouth is so high-pitched that I had this huge overbite," she said. "I got this gate when I was in second grade… I had braces, and then they put a gate."
While her technical terminology isn't quite accurate, Stone is referring to a type of appliance worn in the mouth which dentists call a "tongue crib" or "thumb/finger appliance." The purpose of these devices is to stop children from engaging in "parafunctional habits" — that is, behaviors like thumb sucking or tongue thrusting, which are unrelated to the normal function of the mouth and can cause serious bite problems. (Other parafunctional habits include nail biting, pencil chewing and teeth grinding.)
When kids develop the habit of regularly pushing the tongue against the front teeth (tongue thrusting) or sucking on an object placed inside the mouth (thumb sucking), the behavior can cause the front teeth to be pushed out of alignment. When the top teeth move forward, the condition is commonly referred to as an overbite. In some cases a more serious situation called an "open bite" may develop, which can be difficult to correct. Here, the top and bottom front teeth do not meet or overlap when the mouth is closed; instead, a vertical gap is left in between.
Orthodontic appliances are often recommended to stop harmful oral habits from causing further misalignment. Most appliances are designed with a block (or gate) that prevents the tongue or finger from pushing on the teeth; this is what the actress mentioned. Normally, when the appliance is worn for a period of months it can be expected to modify the child's behavior. Once the habit has been broken, other appliances like traditional braces or clear aligners can be used to bring the teeth into better alignment.
But in Stone's case, things didn't go so smoothly. "I'd take the gate down and suck my thumb underneath the mouth appliance," she admitted, "because I was totally ignoring the rule to not suck your thumb while you're trying to straighten out your teeth." That rule-breaking ended up costing the aspiring star lots of time: she spent a total of 7 years wearing braces.
Fortunately, things worked out for the best for Emma Stone: She now has a brilliant smile and a stellar career — plus a shiny new Golden Globe award! Does your child have a thumb sucking problem or another harmful oral habit? For more information about how to correct it, please contact us or schedule an appointment for a consultation. You can learn more in the Dear Doctor magazine article "How Thumb Sucking Affects the Bite."
By Bencivengo & Ko
June 10, 2017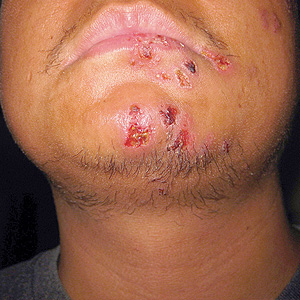 If you had chicken pox as a child, you're at higher risk for a painful viral infection later in life called shingles. Besides a painful skin rash and other symptoms that can develop, shingles could also affect your dental care.
About 90% of children contract chicken pox, a disease caused by the varicella zoster virus (VZV), which usually clears up on its own. But later in life, usually after age 50, about a quarter to a third of chicken pox patients will develop shingles.
The onset of shingles usually produces an itching or burning sensation on the skin that's either numb or overly sensitive to the touch. A red rash may ensue with crusty lesions, accompanied sometimes by pain, fever and fatigue. The rash often forms a belt-like or striped pattern along one side of the face or body.
For most patients this painful rash is the extent of their symptoms. But women who are pregnant, patients undergoing cancer treatment or people with compromised immune systems are at risk for more serious complications if they contract the disease. It's important for these at-risk patients to obtain a vaccination, as well as avoid contact with anyone with shingles.
Which brings us to your dental care: in its early stages shingles can be contagious, the virus passing to others through skin contact or by airborne respiratory secretions. That's why it's important if you're currently experiencing a shingles episode that you let us know before undergoing any kind of dental work.  Even a routine teeth cleaning with an ultrasonic device could disrupt the virus and increase the chances of it spreading to someone else. We may need to postpone dental work until the virus is under control.
Antiviral drugs like acyclovir or famciclovir are highly effective in bringing the disease under control, especially if treatment starts within three days of the onset of symptoms. And don't forget the shingles vaccination: the U.S. Center for Disease Control recommends it for anyone 60 or older regardless of a past history with chicken pox.
See your physician as soon as possible if you begin to notice symptoms. Don't let shingles interfere with your life — or your dental care.
If you would like more information on the impact of shingles and similar viruses on dental care, please contact us or schedule an appointment for a consultation.