Posts for: November, 2014
By Bencivengo & Ko
November 19, 2014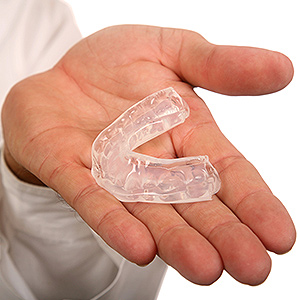 Athletes in contact sports are at significant risk for traumatic injury to their teeth and mouth. It's estimated 600,000 emergency room visits each year involve a sports-related dental injury.
Athletic mouthguards have become the premier safeguard against sports-related oral injuries. First worn by professional boxers in the 1920s, mouthguards are now required for use by various sports associations and leagues — from amateur youth to professional — for a number of sports. The National Collegiate Athletic Association (NCAA), for example, requires their use during play for hockey, lacrosse, field hockey and football. The American Dental Association recommends mouthguards for 29 sports or exercise activities.
But do mouthguards actually prevent injury? To answer that question in a scientific manner, the Journal of Sports Medicine published an evidence-based report in 2007 on mouthguard effectiveness for preventing or reducing the severity of oral-facial injuries and concussions. While the report objectively analyzed many of the problems and issues associated with mouthguards (like materials, design and durability), it concluded the risk of an oral-facial injury was nearly two times greater without the wearing of a mouthguard.
That being said, most dentists and other professionals in sports safety would advise not all mouthguards are alike. The stock, "off the shelf" mouthguard found in many retail stores with limited size offerings is the least expensive, but also least protective, of mouthguard types. Mouth-formed or "boil-and-bite" protectors, which are softened in boiling water and then bit down on by the player to form the fit, are better than the stock version — however, they often don't cover all of the player's back teeth.
The best option is a custom-designed guard made by a dentist for the individual patient. Although relatively expensive (costs range in the hundreds, compared with $25 or less for a stock guard), they provide the highest recognized level of mouth protection.
The bottom line: a mouthguard is a must-wear part of any uniform for any sport that involves contact or high velocity objects of play. If you or a family member is a contact sport athlete, it's essential you protect your teeth and mouth with a custom-fit, high quality mouthguard.
If you would like more information on mouthguards, please contact us or schedule an appointment for a consultation. You can also learn more about this topic by reading the Dear Doctor magazine article "Athletic Mouthguards."
By Bencivengo & Ko
November 04, 2014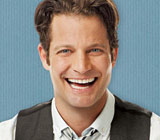 Perhaps you've seen Nate Berkus on The Oprah Winfrey Show or watched his television program, The Nate Berkus Show. You may even have read his best-selling book, Home Rules: Transform the Place You Live Into a Place You'll Love. Regardless of where or how you discovered Berkus, you will surely have noticed his dazzling smile.
Berkus recently opened up about the facts behind his trademark smile during an interview with Dear Doctor magazine. First off, his smile is totally natural, as he never wore braces or had any cosmetic work, including porcelain veneers. However, Berkus does give credit to his childhood dentist for the preventative healthcare he received as a young boy. "I'm grateful for having been given fluoride treatments and sealants as a child," he said. Nate also shared the important flossing advice he learned from his dentist that he still follows today: "Floss the ones you want to keep." Berkus went on to say that he feels, "healthy habits should start at a young age."
And we totally agree! For this reason we have put together the following list of facts and oral hygiene tips:
Over 50% of plaque accumulation occurs in the protected areas between teeth — a place that may be difficult or even impossible to reach with a toothbrush.
A thorough brushing may take up to two minutes at first, and it may feel awkward as you reach some places in your mouth.
Remember, more is NOT always better! Brushing or flossing too hard can be damaging to your teeth and gums. And never saw back and forth with your floss.
To learn more about oral hygiene, including brushing and flossing techniques, you can continue reading the Dear Doctor article "Oral Hygiene Behavior - Dental Health For Life." Or you can contact us today to schedule an appointment so that we can conduct a thorough examination, review your brushing and flossing techniques, and discuss any questions you have as well as treatment options. As needed, we will work with you to teach you the proper brushing and flossing techniques so that you feel confident before you leave our office. And to read the entire interview with Nate Berkus, please see the Dear Doctor article "Nate Berkus."